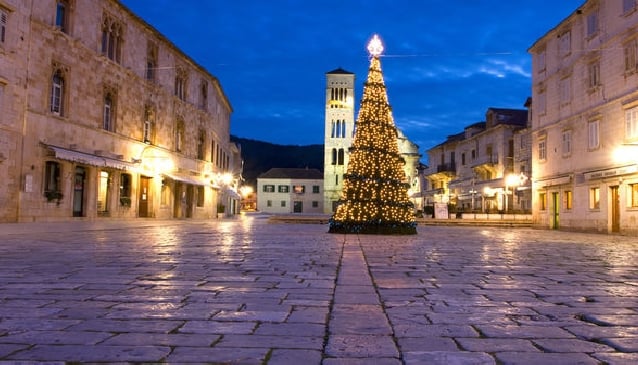 Christmas in Croatia
Seasonal Celebrations
Whereas Christmas day is for all the family, St. Nicholas' day in Croatia is just for the children.
It can almost be said that a modern Christmas has become synonymous across Europe. Christmas' of the past 50 years are all about overeating, overspending and getting that red bicycle when you were 12. Traditions unique to a particular country are hard to think of, idiosyncrasies built up over the centuries from folklore and religion. However, when Father Christmas stops off in Croatia this year he will see the many interesting traditions that they celebrate through unique Croatia events, and in true Christmas style, starting way before the 25th.
Advent
Christmas in Croatia officially starts on the first Sunday of December, like many Western countries, when the first candle in the Advent wreath is lit in its churches and houses. Croatia is an extremely religious country and so religion plays a huge part in its Christmas celebrations, with the Advent wreath being one of the most popular Christmas decorations in any Croatian's home. The wreath is made with four candles and one is lit every Sunday representing each Sunday left before Christmas day. Advent wreaths are normally bought from a florist, although some families choose to make them. Licitar hearts are traditionally made around this time, honey dough cakes baked into the shape of a heart and then decorated in vivid colours, the main of course being red. These can be passed on to others as presents but they can also be hung on a tree as bright decorations.
St. Nicholas Day
St. Nicholas, I found out while researching for this article, is not the same as Father Christmas or even Santa, but rather is based on Dutch stories about Sinterklaas, which are in turn based on the Christian miracles of St. Nicholas. In Croatia on the 6th of December they celebrate the Saint and his miracles, with such traditions as children cleaning their boots and leaving them outside their front door so they can show that they have been good. If they had been good then St. Nicholas would come and fill their boots with treats, however if they had been bad then a Krampus, a demonic beast that follows St. Nicholas, give the children's parents a rod or šiba so that they could be punished. Whereas Christmas day is for all the family, St. Nicholas' day in Croatia is just for the children. They receive presents and particpate in festivities at their church. For a Croatian child, Christmas really begins on St. Nicholas' day.
St. Lucia Day
St. Lucia, or St. Lucy's day is celebrated on the 13th of December when the winter solstice, the shortest day of the year, was thought to have occurred. As St. Lucia is the saint of light, church celebrations involve a procession lead by a girl with lit candles (or in more modern times battery powered lights) on a wreath on her head. This is to celebrate the light of St. Lucia guiding Christians through the shortest day. On this day in Croatia, as well as church celebrations, wheat seeds are planted in a small dish, which begin to sprout before Christmas to represent birth and new beginnings as well as the birth of Jesus.
Christmas Eve
Christmas Eve in Croatia, often called Badnjak, is celebrated in much the same way as the rest of Europe, with a few differences. Badnjak refers to the Christmas log that is brought into the house and burned in the fire on the evening of Christmas Eve. This particular tradition has become harder to do in modern times as most houses do not have a hearth, however many Croatian homes will have a ceremonial log in their house instead. The wheat that had been growing since St. Lucia's Day is tied with ribbons the colour of the Croatian flag (red, white and blue) and used as a base for a candle in the centre of the table. A large meal is usually eaten, often with fish instead of meat. Church is also attended, sometimes in the evening or sometimes at midnight mass (polnócka).
Christmas Day
The day will begin either with midnight mass or mass in the morning, in which many Croatian's will sing Christmas carols. Gift giving is a fairly modern tradition as gifts are traditionally given on St. Nicholas day and St. Lucia day, however, in modern times presents are being exchanged on Christmas day as well. In the past, children of Croatia used to receive an orange or some nuts as their Christmas present, (very humbly of course). However, the main tradition of eating and family still exist worldwide. A traditional Croatian Christmas dinner consists of noodles, turkey, cabbage rolls, pork and potatoes. Desserts of struddles, deserts and biscuits are then eaten, rounded off by the worldwide tradition of a post-meal nap.
St. Stephen Day
St. Stephen day or Sveti Stjepan celebrated on the 26th of December, is a continuation of Christmas day. It celebrates the first Christian martyr and as a national holiday it is a time to see family and friends and feast.
Silvester's Night
And finally, to round off all the Christmas celebrations there is Silvester's night or New Years Eve. Traditions for this change per generation, with many older Croatian's celebrating the new year by attending a church mass. Younger Croatian's tend to visit restaurants and then continue their night in one of Croatia's busy nightclubs with their friends and family. Locals tend to stick to their town squares where celebrations last well into the new year, with fireworks and live music.
So there it is, the complete agenda for a traditional Croatian Christmas. Now someone pass me a licitar heart…