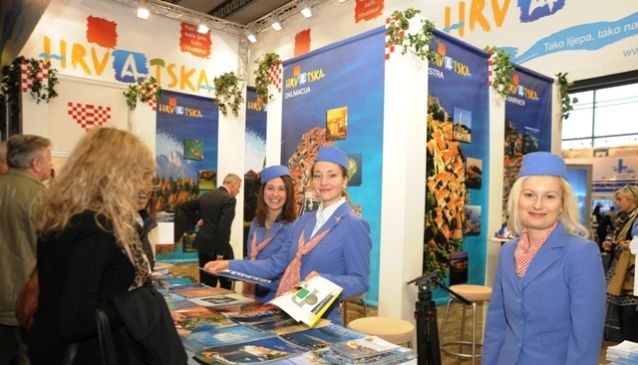 CroTOUR 2013
Arts & Culture
Last year this fabulous tourism and travel manifestation was visited by over 25,000 travelers.
CroTOUR is an international travel fair which will be taking place between the 13th and 17th of February at the Zagreb Fair. Last year this fabulous tourism and travel manifestation was visited by over 25 000 travel enthusiasts! The travel show will display all that Croatia has to offer from fabulous hotels to traditional restaurants, local winemakers to adventure and leisure recreational activities. The main goal of this year's exhibition is to create interest in a longer tourism season, showing visitors that Croatia is not only a wonderful summer destination but also just as beautiful during all the other seasons of the year. In the Fall, for example, the leaves of Velebit National Park change colors, in the winter, the waterfalls of Plitvice freeze into magical icicles and in the Spring, the tulips emerge and every café opens its outdoor terrace. Croatia for most means beautiful beaches, fresh seafood and hot summers and although this is what we are notorious for, the country truly has so much more to offer. With hundreds of vendors and professionals presenting their products and services we are certain that every visitor will at least learn something new, discover an exciting destination to visit and enjoy a pleasant afternoon amongst some of the greatest business representatives from the tourism industry.
Visitors can expect to meet individuals from various travel agencies, hotels, private accommodations, tourist boards, airlines, ferry boat companies, and all other transportation firms specializing in tourism. These and other specialized tourism companies, will have members of their teams present to communicate all the latest trends in travel.
What is most extraordinary about CroTOUR 2013 is that it will include four fairs in one: CroTOUR, Inga, Hotel&Gastroteh and the Zagreb Boat Show.
Inga will showcase modern food trends and innovations in the culinary and gastronomy sector of Croatia. Exhibitors will present traditional autochthonous products along with organic, healthy, functional food, drinks, natural water and ecological cultivation. Inga will also showcase businesses specializing in the industry of food equipment and raw materials. Surely there will be some gourmet sampling to be done.
Hotel&Gastroteh is back for the fifth year in a row, boasting the best of the best from the hotel and restaurant equipment sectors of Croatia.
This year's Zagreb Boat Show will mark the 21st edition of the largest business boat show in the region, featuring world producers of boats, yachts, sailing boats, speedboats, scooters, kayaks andmarine engines. There will also be, clothing, footwear, equipment and accessories for diving, fishing, sailing and other water sports available. Numerous Croatian marinas, charter companies, shipyards, andassociations related to boating and nautical tourism will be presenting their products and services.
Needless to say, CroTour 2013 is one of the most highly anticipated events of the year. This year, organizers are expecting a record breaking number of visitors along with exhibitors. Tickets are purchased at the entrance to the Zagreb Fair and the price of one ticket will allow admission to all four of the exhibitions. Be sure to find us at the My Guide Croatia stand. We look forward to seeing you there!