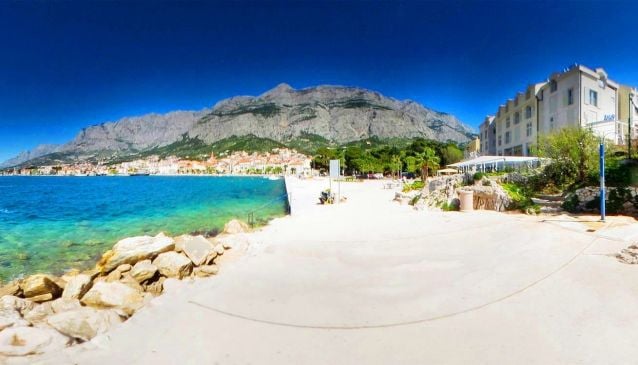 Makarska, the Summer Hotspot of Dalmatia
Family Fun
This beautiful coastal village is a favorite summer hotspot for travelers of all ages
Located at foot of the majestic Biokovo Mountain, Makarska is an idyllic city in Dalmatia situated sixty kilometers from Split. This beautiful coastal village is a favorite summer hotspot for travelers of all ages. Kilometers of some of the most stunning beaches in the Mediterranean, boardwalks dotted with hundred year old pine trees and an old city center adorned with palm trees and a fantastic promenade make it one of the most picturesque villages in Dalmatia. Fish restaurants, beach bars, discos and quaint cafes can be found on every corner. Private accommodations are plentiful along with recently refurbished hotels and two new recently opened hotels, Hotel Park and Hotel Osejava. Guests young and old can enjoy water sports activities all day long as the weather gets quite hot and rainy days are a rarity. Day trips to the neighboring islands, Korcula, Hvar or Brac on large excursion boats depart daily from the city harbor as well.
Although Makarska is most commonly known for its incredible beaches and fabulous summer atmosphere, Makarska also offers numerous cultural and natural sight-seeing opportunities. The church of St.Peter's which is perched on the horseshoe like bay overlooking the city center was built in the 13th century. This lovely sacral monument does not serve regular masses however wedding ceremonies and private celebrations can be organized here. As a tribute to the patron Saint of Peter is how the church got its name along with the entire peninsula including the lighthouse on the southwest side. St.Peter's lighthouse was originally built in 1884 and was later refurbished. Today it provides unique accommodations for summer tourists. The Franciscan Monastery which is situated at the end of the main city promenade was built in 1614 and is home to one of the most significant Malacology Museums in the world. The main square Andrija Kacic Miocic used to be the key city hub of the inhabitants of Makarska. The main attraction of this stunning city square is St.Mark's Church which was built in the 17th century and still serves as one of Makarska's main religious buildings. This romantic square is filled with little shops, cafes and bistros and turns into the center stage for several summer concerts and events. As you venture down towards the 'Lištun' you will reach the Ivaniševic Palace. The baroque architecture of the palace is stunning. Dating back to the 18th century the building resembles typical residential architecture from that period.
Visitors who prefer a more recreational holiday will enjoy the numerous hiking and biking paths leading up Biokovo Mountain. Natural Park Biokovo provides a perfect family day excursion amongst the natural settings of this mountainous terrain with breathtaking views of Makarska Riviera and many islands in the distance. Makarska Sports Center located in the city center features various sports terrains, a running track, an indoor gymnasium and an Olympic size indoor swimming pool. It is no wonder Makarska is the birthplace of numerous successful athletes such as Alen Bokšic, former professional soccer player and Ivan Buljubašic, water polo gold medalist at the summer Olympics in London 2012.
Makarska has also become quite well known for its nightlife scene. Exotic clubs welcoming international DJs, numerous beach bars hosting musical manifestations such as Echo Festival along with more traditional cafes playing Croatian top hits to the early hours of the morning, there is something for everyone. Klapa festivals, fishermen nights and numerous concerts fill up every evening of the summer allowing tourists a wide array of entertainment options. One of the most notorious events of the summer is the Makarska Summer Carnival. The entire city center is closed off to vehicles and from the early evening to dawn locals and tourists become part of an enormous open air costume party!
Makarska's first hotel was built in 1914 and from very early on Makarska established itself as the summer destination of choice for visitors to Dalmatia. Today it enjoys annual record breaking numbers of returning and first-time tourists. Come and see for yourself how this small coastal city has captured the hearts of so many.