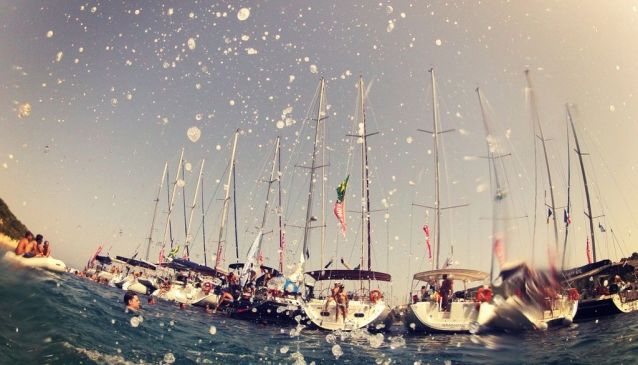 Uncover Croatia by Sailboat
Adventure
During the summer months, Hvar becomes the most popular destination for a night out on the Adriatic
Expert Advice on Yachting in Croatia
Island-hopping across the stunning coastlines of the Mediterranean along the shores of Croatia you will encounter some of the most beautiful beaches in the world, fabulous gastronomical offerings and endless hot summer parties! Croatia provides some of the clearest and cleanest waters in Europe and with over 1,000 beautiful islands there is no question that the best way to discover Croatia is by yacht. We thought we would turn to the specialists, our loyal partners at Sailing Hr, to help provide us with some insight for planning your next sailing holiday in Croatia.
What would be your number one sailing destination in Croatia and why?
The Split route is definitely one of the most interesting trips we offer. You will discover 6 incredible islands along the Dalmatian Coast, including the ever-so-popular Hvar. We think Hvar and the Hvar archipelago are the most beautiful destinations to visit in Croatia, especially via sailboat!
When we think of Hvar – we think of the island of sunshine, secluded coves, lavender, wine, olive groves and ancient towns. It's been voted as one of the 10 most beautiful islands in the world. Hvar is famous for its fine wines and world-renowned vineyards. But Hvar is much more than that. During the long summer months, Hvar becomes the most popular destination for a night out on the Adriatic. As the night progresses, people begin to gather around the many cafes and hotel terraces with live music. The party never stops.
From the incredible party life on the island of Hvar you set sail again to the fabulous island of Vis. where we'll take you to its countless hidden beaches and caves. The islands of Vis are famous for their caves, where the unique, iridescent blue water will make your visit unforgettable. The town of Vis is situated on the northeastern part of the island in a protected bay. Recently, the town of Vis has welcomed more and more young and adventurous people, especially sailors and yachtsmen. Although changes in the lifestyle of the islanders are inevitable, the town of Vis still retains an irresistible Mediterranean charm and enjoys a everyday life free of stress and modern problems.
From Vis you will travel to the Blue Cave on the island of Biševo, which is the most famous maritime cave in Croatia. The entrance to the cave is only 1.5m high and 2.5m wide. Between 10am and 1pm the sunlight reflects through the water and is reflected from the bottom of the cave, illuminating everything in the most intense blue light.
Along this journey you will also uncover Palmižana (namely Vinogradišce bay) which is a large shallow bay with a beautiful sandy beach. It is surrounded by pine trees, fragrant lavander and rosemary bushes, and a host of exotic plants. These islands are all a part of the Hvar archipeligo, and we can say without exaggeration, they are the most beautiful on the entire Croatian coast.
What is the best time of year to visit Croatia for someone planning a sailing vacation?
The best months to visit Croatia are July and August. The days are long, the weather is fabulous and the water temperature is ideal.
What is the ideal length of a sailing vacation?
A perfect sailing vacation consists of seven days. Any less and you are not able to uniwind and truly reap all the benefits of being able to seclude yourself from the stress and worries of everyday life. People cannot truly understand the incredible experience of living and sleeping on a yacht for seven days until they encounter it. We often have interested clients concerned that they will not enjoy it as much as staying at a hotel, however you should really look into the various pros and cons of both options. One of the negative aspects of staying at a hotel is having to walk long distances to find a beach that isn't crowded by tourists or having to wake up early to save a spot for yourself on the beach.
On your very own yacht you are always literally a step away from a swim in the sea. The yacht moves from island to island every day, so there is always a new destination to enjoy. There are no expensive additional costs incurred for getting a room with a view. Sea views are, needless to say, available 24/7 with free access to food and drinks from the kitchen. You can buy your own food and drinks at the supermarket and have meals which are preared to your liking. On the deck it's always sunny with a fresh breeze ensuring the best possible tanning conditions. You won't be surrounded by hoards of tourists since you are away from the most crowded places during the day while sailing. With a sailing yacht you can always access beautiful natural bays for a nice private lunch combined with swimming.
If you are travelling alone is it possible to join another group for a sailing trip?
Absolutely! This is exactly what differentiates SAILING.HR. from the rest. We have a large number of solo travellers who we combine together in specific groups regarding age, prefernces, interests etc. This way we are able to ensure an incredible crew and thus creating an unforgettable week for the whole group. We have numerous clients who have told us that they have remained good friends with the people they met on our sailing trips.
What is the maximum or minimum group size preferred to travel on one yacht?
We offer yachts, catamarans and sailboats that can accommodate groups from 2 to 12 people. Obviously depending on your wishes and your budget. It is possible to reserve larger yachts for smaller groups of people if you are seeking more comfort or privacy.
What other local tips regarding sailing trips can you provide us with?
Decide if it's right for you. You have to be at least 20 to go on a SAILING.HR trip, but the average age is about 25 - 28. People fly in from all over the world. It doesn't matter what language you speak, there will always be someone for you to make friends with. However, if you're outdoorsy, fun and a bit of a party animal, a week on the waters with SAILING.HR is heaven on Earth.
What to pack?
Leave the hair straighteners at home. You'll have little to no electricity for most of the week and if you're not getting sprayed by waves, you'll be getting showered in champagne. Don't take fancy clothes or high heels, you won't need them. Pack bikinis, shorts, sundresses and flip flops.
What will I need extra money for?
You're going to need money for food and drink. The best idea is to make a boat bank. Everyone puts in a certain amount of money at the beginning of the week and you use that for all your shopping needs. Food and drink is outrageously cheap in Croatia. We recommend the following staples: pasta, eggs, bacon, bread, and lots of vodka, wine, beer and juice.
Is there anything else you would like to add?
SAILING.HR is essentially one big, happy, boozy, family. Everyone is there to have a good time, everyone wants to make friends. Walk along the dock with a bottle of something delicious and share! Couples, this is also for you: believe it or not people actually go, have fun and get to know each other, they make friends and have a blast. There's no reason you shouldn't go as a couple. Some of the best boats have a mix of singles and couples. Why not get your friends together and join forces?
We also suggest making a great playlist of your favorite music before you go. You'll be able to plug it in to the yacht's speakers and it'll make all the difference. When you're docked people fight it out to play the best party music. If yours is the best, you have the best party in front of your yacht, simple. Of course you'll always have the SAILING.HR parties and club nights. The DJ's are awesome and you'll hear all the hottest summer tunes every night. Soon they'll worm their way into your brain and you'll be fist pumping in your sleep.
Lastly, take sunscreen!