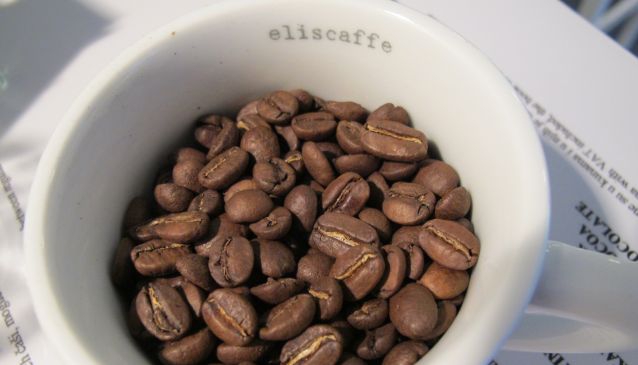 'Kava' in Croatia
Food & Drink
The coffee served in Eliscaffe is by far the best we have tasted in Zagreb.
Croatia's coffee ritual is something we are known for and something we take very seriously. For Croatians, enjoying a cup of coffee (kava in Croatian) by yourself or with friends, family and colleagues on a daily basis is not a luxury, it's a norm. We may be the only country in the world where Starbucks would not profit. Business deals, make-ups, break-ups, job interviews and so many more significant life meetings take place over coffee. An hour to three hours marks the length of a completely normal coffee sitting. Zagreb, in particular, is extremely popular for its amazing coffee scene. With numerous coffee shops dotting every corner of this bustling city it is sometimes hard to find the right place to enjoy your cup of java as the options are endless. We have compiled our list of favorite, non-smoking places to sip your coffee and soak up the tastes, smells and views of Zagreb.
Out of all the coffee shops in Zagreb, our favorite has to be Eliscaffe. Located twenty meters from Britanski Trg, directly on the city's main street of Ilica, the place is quaint yet fantastic. Now don't expect to be floored by some fancy décor or pretentious trendy crowd, at Eliscaffe a simple and classic white interior prevails allowing the fabulous scent of real coffee to do the talking. The ambience is inviting yet unique. On the day we visited, various scholars and famous architects were enjoying their espressos and cappuccinos. Although each person was sitting at their own table a communal conversation was flowing. Visitors stopping by for their coffee to go would become a part of this running banter which was humorous and refreshing. The coffee is by far the best we have tasted in Zagreb and possibly in Croatia altogether. Nik Orosi, the intriguing owner and award-winning barista, lives and breathes coffee, aiming for the perfect brew. Nik roasts his own beans and was very open about sharing the whole process with us, even inviting us to see his coffee roastery. We highly suggest trying their caffe late at 16hrk. Once you have had a sip, you will definitely understand why they were recommended by New York Times travel as one of the best places to visit in Zagreb.
Although nothing like Eliscafe, our next runner up is a great cafe if you are looking for the ideal place to take in the crowds of the Zagreb city centre. Oranz is a beautiful cafe located directly on the major street of Ilica. This large cake and coffee shop (large by European standards not North American standards) offers visitors a variety of desserts, simple salads and sandwiches as well as coffee. The floor to ceiling windows look onto the busiest street in the city. The decor is modern and elegant with a luxurious touch and a hint of orange details. The front of the venue has stools for a quick cup of coffee while the back has booths and comfortable chairs for lengthy gossip sessions or lunch meetings. Depending on what time of day or day of the week you visit, the scene changes. On Sunday mornings, elderly visitors like to stop by after mass or on their way to the Dolac market. On Saturdays, a more trendy crowd comes to visit as the nearby Cvjetni Square is renowned for its trendy scene known as špica, where the women are dolled up to the nines and even the men don't hesitate to showcase their trendiest threads. During the week, a crowd of business movers and shakers fill the tables while the after-work hours finds families and couples enjoying a relaxed evening out.
Tucked away on a little street off of Ilica you will find the artsy Velvet cafe which boasts coffees, snakcs and desserts. Although the menu is not extensive here, quantity does not represent quality. On any given day you will usually be able to choose from only three cakes, however, whichever one you pick willbe tasty and delicious. The coffee here is great and the scene is elegant and trendy . Celebritys like to enjoy their coffee break at Velvet as its location is not well known and it is definitely a lot more low-key than the other fancy coffeeshops in the city. Artsy and edgy, the coffee shop is populated with broken mirrors, unique art, lowered tables and chaise lounges. On a Saturday morning you will be hard-pressed to find a table however, if you arrive a little earlier than peak coffee time -10am to11am, you shouldn't have too much of a problem.
Tkalciceva on the upper side of the city, off of Ban Jelacic Square, is a street renowned for shoe stores, restaurants and pubs. The Cookie Factory which originally opened on a smaller street off of Tkalciceva and later moved to Tkalciceva was a welcome addition. The interior of the coffee shop has a very friendly feel with pictures displaying some of its hit offerrings such as the warm brownie topped with your choice of ice cream. Red velvet cake, cheesecake, peanut butter cookies, and mint chocolate bars are just some of the delicious treats offered here. The interior is mainly white with pops of yellow and green which add to the fun spirit of the place. This fantastic cafe would have to top our list as one of the best family coffee shops in Zagreb but is also a great place to impress a date, offering something different other than a movie or dinner. This place gets especially busy on cool winter evenings when everyone in Zagreb seeks out a little comfort food and a warm cup of coffee.
What is also worth mentioning is that all of the cafes detailed above have outdoor seating to be enjoyed during warmer weather and are non-smoking indoors. Now all you have to do is grab a buddy and go give our four favorite java spots a try!