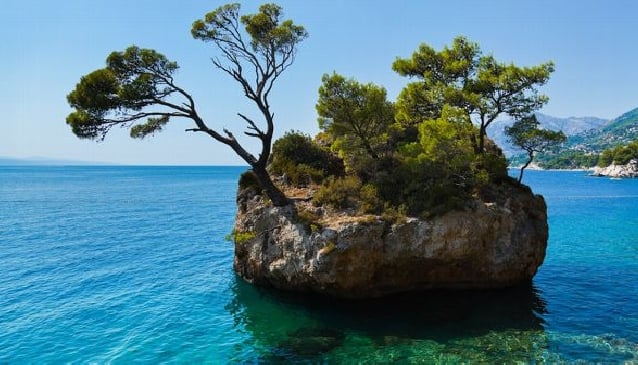 Croatia's Best Beaches
Family Fun
Red Island is a nature lover's heaven, with an earthy beauty accented by pinewoods and rugged clif
With sizzling summer temperatures it's no surprise that beaches are the most popular Croatia attractions. Locals and tourists alike spend most of their days basking in the warm Mediterranean sun enjoying some of the most gorgeous beaches in the world. Indeed, you would be hard pushed not to include at least one sun-lovers-hot-spot on your Croatian holiday. To help you out, here is our run-down of the best:
Brac Island Bol, Zlatni Rat Beach
Known as 'Golden Horn Beach', this sandbar extending nearly 580 yards out into the sea on the island of Brac is an ideal place to come and soak up some sun. The turquoise water highlights the golden sheen of the shingle and the observant amongst you will notice the sandbar altering its form depending on the wind direction and strength. Zlatni Rat (or the Golden Horn…) is a beach that is popular with both tourists and locals and offers up not just a picture-postcard setting but also water sports, cafes and a restaurant. Surfers can also hit the waves at the tip of the beach while there are also windsurfing schools and an SSI scuba diving school for those wanting more than sun worship with a view…
Dugi Otok, Telascica Beach
Located on the largest island of Zadar's archipelago, Dugi Otok, Telascica Beach is a real treat for those wanting a slice of paradise away from the maddening crowd. Come here to take in the peace and quiet of a sandy beach where relaxation and nature are available - even in high season. The beach itself is found in Telascica Bay where there are various little inlets to be found dotted along its shores. Given the natural beauty of the area it has been turned into a Natural Park. As well as the islets and sandy inlets there's also a warm (and supposedly curative) lake which makes a great place to swim or spot some wildlife.
Brela, Punta Rata & Berulija
For those holidaying with the family, the beach just off the pretty village of Brela is a good option. This pebbly swathe of coastline shelves gently into the turquoise waters and has an amazing backdrop of fig trees, olive groves and the Biokovo Mountain. Both Punta Rata and Berulija beaches have Blue Flag status for their water quality, facilities, cleanliness and environmental management and the whole area has long been reputed as one of Croatia's most beautiful locations.
Dubrovnik, Banje Beach
For a slice of glitz and glamour, Banje Beach is the place to head. The most well-known of all Dubrovnik's pebbly beaches this coastal treat also has great views of not only the turquoise waters but also Dubrovnik's Old Town. Situated right on Ploce Gate (the eastern entrance) of the Old Town and near iconic hotels such as Excelsior, Argentina, Villa Orsula and Lazareti location is everything. As you would expect from any stylish stretch of sand you can find a restaurant, cafe and chic bar overlooking it in the beaches own reception. Here you can recline on the couches, hire a sun-bed or opt for a jet-ski, speed boat or banana ride… (though possibly not the latter if style and poise are your objective…)
Hvar Island, Pakleni Otoci
Hvar is a popular hot-spot for sun-starved holiday makers to Croatia's beautiful shores and there are, as you would expect from an island this well-loved, a number of gorgeous beaches to uncover. The Pakleni Islands (Pakleni Otoci) are a set of around twenty islets just off the coast of Hvar and are an ideal place to come for some beach-time away from the masses. Easily accessible by boat from the Arsenal in Hvar (it takes around 20 minutes), you should definitely make the journey at least once as the seclusion and natural beauty is well worth the effort. Sv. Jerolim, Zdrilica and Palmizana are popular beaches to hunt out with the bay on islet Klement a real beauty and diving understandably popular.
Rab Island, Paradise Beach
Rab Island has a lot to offer with everything from rocky coastlines, pebble beaches and of course, sandy stretches like 'Paradise Beach'. This swathe of golden sand can be found at Lopar, a village 14km from the town of Rab, where its 2 kilometre expanse has set it out as one of the Adriatic's most well-known beaches. Loved by those of all ages thanks to the soft sand, gently shelving beach and warm water it's also backed by shady pine trees - useful in the hot summer sun. Lopar is a popular holiday resort and close by you can find the islands largest campsite as well as apartments and hotels if you're after a little more luxury.
Island of Rovinj, Red Island
The Rovinj archipelago is home to Crveni otok (or Red Island as it's also known), the biggest of its islands and a 15 minute boat ride from Rovinj itself. Red Island is a nature lover's heaven with over 180 different types of plants found there and an earthy beauty accented by pinewoods, rugged cliffs and picturesque bays. With two boats an hour heading here from Rovinj it's well worth hanging around to get yourself out here.
Primosten, Raduca Beach
Primosten is a Croatian gem, a former fishing village full of character and Mediterranean charm with an old town boasting narrow streets, cafes, bars and restaurants serving mouth-watering local cuisine. Understandably, those wanting to sample Croatia's traditional side love it here and cellar bars as well as the local delicacy, spiny lobster a la Primosten are sought out in earnest. Situated on a hilly island south of Sibenik, picturesque, rocky beaches extend along its shoreline with the north of the island boasting a pebbly beach and the south section offering up a rockier coastline. Raduca Beach is a great one to search out as it's got that Blue Flag status, and all the facilities that come with it.
Rabac, Maslinaca Beach
Maslinaca Beach is another of Croatia's Blue Flag winners with its 500 metre long pebbly offering in Rabat's tourist area. As well as its clear, turquoise waters and water sports it's also in close proximity to many hotels, a swimming pool and a forest. Rabat is a popular tourist destination and offers up a lot in the way of facilities as well as a beautiful setting. A promenade leads from Maslinica to Labin (a Medieval Town well worth exploring) and the beach offers up a plethora of activities from canoes, banana boat rides and jet-ski hire to mini-golf, beach volleyball and even a children's playground and kindergarten facilities.
Nin, Nin Beaches
18 kilometres north of the town of Zadar you'll come across the oldest Croatian royal town, Nin. Famed for its history and traditional culture it has many monuments well worth a visit including a 9th and 12th century chapel which is unique in the country. As well as providing for culture vultures it also deals a good hand to sun worshipers with a shallow lagoon providing a place to unwind as well as a top spot to take a dip given the higher sea temperature due to its shelter from the open sea. Sandy shores and shallow seas with protection from sea breezes make these beaches ideal for lazy days in the sun - oh, and there's a great view of the mountains too.