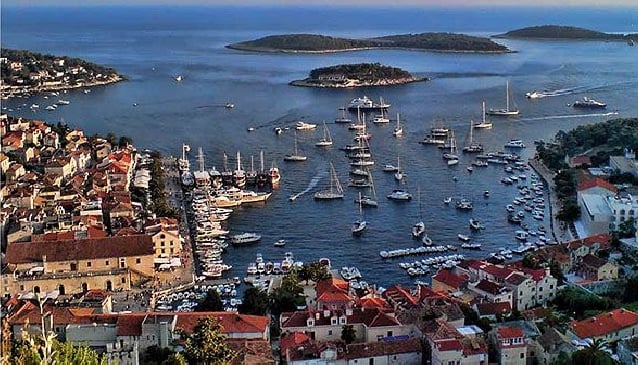 Hvar - Croatia's Summer Holiday Hotspot
Inspiration
Luxurious resorts, refurbished stone houses and extravagant private villas stand proud.
Croatia's popularity as a tourist destination has now been fully cemented. It has become a haven for those wanting gorgeous sunshine, rugged coastlines with pebble plaid beaches and untouched, photo inducing countryside. Another reason for the country's popularity, aside from the culture and cuisine, is of course Croatia's attractions of many picturesque islands scattered lovingly along its coastline. Hvar has over recent years had something of a boom, rated as one of the county's top most visited islands and hosting holidaymakers who enjoy a hotspot fast becoming the place to hang out.
Referred to by many as the 'Sun Island of Croatia', Hvar has the most average hours of sunshine (7 daily) of any destination on the Adriatic Coast. This makes it an ideal summer holiday location and coupled with mild winters it makes a good retreat from the colder climes of many other European destinations come the end of autumn.
At just over 67 kilometres in length it's also the longest of the Adriatic Islands and is home to everything you would expect from a Croatian atoll, a rocky coastline, secluded coves, pebbly beaches and the turquoise Adriatic Sea tickling its perimeters. The vineyards, olive groves and lavender fields add further splashes of colour with the later throwing lilac blankets cheerfully over the island.
Croatia is no stranger to history and culture and the island's Franciscan Monastery, Cathedral, City Loggia, Fortress and the oldest communal theatre in Europe should feature on any Hvarian tour. Equally, a stroll along the main harbour in Hvar Old City is worth it not only for the injection of history but also for the vision of luxury yachts docked in the waters below.
Indeed, sailing around the Croatian islands is one of the most enjoyable ways to travel with the best views of the islands from the calm Adriatic waters. Hvar Town is where decedent vessels moor their luxurious exteriors placing them close by Pakleni Otoci by day and within easy reach of the towns' elite party scene come night.
Elite and luxurious are easily synonyms which can comfortably describe Hvar. The island has seen something of a re-vamp with luxury nightclubs and posh lounges, chic shops and boutiques and a general finish that screams more Prada than Primark. Luxurious resorts, refurbished stone houses and extravagant private villas stand proud. While spa and wellness centres have amenities usually unheard of on an island of less than 12, 000 inhabitants. Restaurants serve up local Croatian cuisine overlooking the coast so you can tuck into freshly grilled fish and a glass of homemade wine while looking out at the glistening yachts dotted along the horizon.
With both natural and man-made appeal, old and modern attractions and cobbled streets and architectural aesthetics that immerse you into a feeling of becoming at one with the islands heart and soul, Hvar has a lot to offer. Indeed, along with the likes of Portofino, Cannes and St Tropez, Hvar is seeing something of a celebrity following. Stars such as Gwyneth Paltrow, Bill Gates, Paris Hilton and Clint Eastwood having been seen on the island - proving Hvar's got what it takes to compete with the big boys…