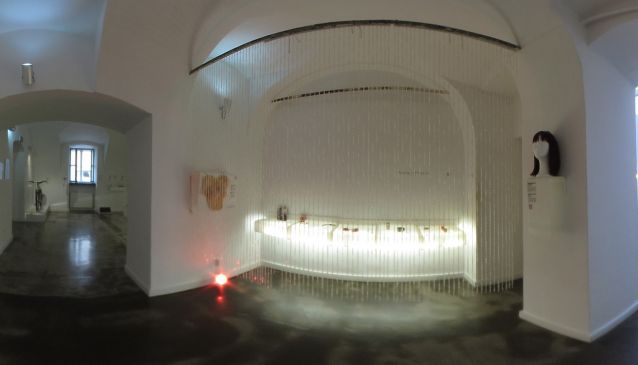 The Musuem of Broken Relationships
Arts & Culture
Keep it you're going to use it the next time you come and see me. There was no next time.
An edible thong, hand-cuffs, love letters, a smashed car door mirror, a gift from a secret lover; these are only a few of the unique artifacts one will find on display at the quirky yet moving Museum of Broken Relationships. The museum originally began as a touring exhibit visiting various cities across the globe from South Africa to the U.S.A, Germany, Macedonia, Croatia, and Serbia. It is currently collecting items from willing donators for their exhibit at the Boulder Museum of Contemporary Art in Colorado. Today the permanent exhibit in the city center of Zagreb has actualized into a museum by founders Olinka Vištica i Dražen Grubišic. Welcoming numerous curious visitors the museum has grown in scope and popularity since formally opening its doors in 2010. Whether you are visiting for sheer amusement, for your own personal reasons or simply to find liberation in knowing that you are not the only person who has suffered from a broken heart, the museum is entertaining, original and in some strange way inspiring.
As you enter the Museum of Broken Relationships an inscription on the wall explains the philosophy of the museum. All of the artifacts on display were donated by people from around the world who embraced the idea of showcasing remnants from failed relationships for either therapeutic relief, sheer exhibitionism or welcoming the option that something more meaningful than random suffering was now presented to them. The museum consists of 8 sections – Allure of Distance, Whims of Desire, Rage and Fury, Tides of Time, Rites of Passage, Paradox of Home, Resonance of Grief, Sealed by History.
In the section, Allure of Desire a hundred Swedish crowns is presented with the following text: Keep it you're going to use it the next time you come and see me. There was no next time. The Whims of Desire section presents intimate objects of failed relationships from cheating lovers to cheap boyfriends. The Rage and Fury exhibit exposes items from dramatic break-ups and ended marriages. For example one of the items includes a broken car mirror from a woman who vandalized her partner's car as it was parked in front of the "wrong" house one evening. To this day her ex still believes it was hooligans who had attacked his vehicle that evening. The Tides of Time section portrays items representing the loss of time and wasted years on toxic relationships and the factor of time in healing a broken heart. An old wedding album, a moving love letter from a dying husband, an ancient iron, exotic gifts and numerous other artifacts await you as you uncover a small piece of history in the world of love and loss.
The Museum of Broken Relationships is located in the cultural and trendy Upper City of Zagreb. The museum is not large however just large enough to keep you reading the story of every artifact right to the end. Some stories will make you laugh, some will make you cry but one thing all visitors can agree on is that is unlike any museum they have ever been to before. It is no wonder the MBR won the Kenneth Hudson award in 2011 for the most innovative museum in Europe. Visit and see for yourself because if you have loved and lost, which we all have, we are certain you will not be disappointed.