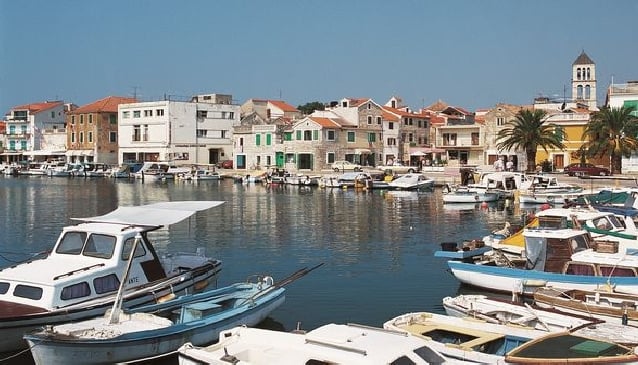 Viva la Vodice - Where to Holiday in Croatia
Inspiration
It's no surprise that Vodice has captured the hearts of tourists...
Since the 1990s, the beautiful coastal town of Vodice has been recognised as one of the most popular tourist attractions in Croatia. This famous hot spot is located in central Dalmatia, a 20-minute drive north from the city of Sibenik and approximately an hour drive south from the city of Zadar .
With the pleasant Croatian weather and its many highly rated hotels, apartments and other types of accommodation, along with a rich variety of entertainment, it is no surprise that Vodice has captured the hearts of tourists, encouraging them to return year after year to this Adriatic hot spot.
Other than its natural beauty and the wonderful beaches that lie along the sparkling waters of the Adriatic, Vodice is unique for several reasons. The wide variety of things to do in Vodice makes it very special. It possesses attractions for all types of tourists – young adults, married couples and families. A larger town on the Croatian coast, Vodice bears the bustling life of a city.
The options are endless in Vodice. There are restaurants offering all types of gastronomic specialities, Mediterranean cuisine being the most prominent. However, there are also many fast food venues that are open throughout the night, perfect for those concluding their evening after visiting one of Vodice's many bars and clubs. There is a rich variety of nightlife in Vodice; some of the most visited venues are Opium, Exit Makinja NightClub and perhaps one of the most famous nightclubs in Croatia, Hacienda. Each year Hacienda offers its guests a rich programme of both international and regional artists from DJs to singers. This outdoors venue even had NBA basketball player Tony Parker and American actress Eva Longoria host the opening party in the summer of 2010.
Vodice provides guests of all kinds with something to do; there are beach parties for those interested in daytime entertainment, for families there are many recreational activities to do right alongside the beach. This town has no off season, as the festivities kick off as early as June this year. The Croatian Music Channel will host their annual CMC Music Festival and present over 20 Croatian artists on June 15 and 16, along with various other events leading up to and after this summer starter. For those visiting in July, with just an hour's drive north to Zadar, they can enjoy the Zadar Fashion Nights, in the hot summer evenings, and return to Vodice that same night to spend a fun evening in one of Vodice's many venues which always have a packed line-up of events in the summer. The activities continue, especially for the family, with the Festival of Sibenske Sansone held on the third weekend of August. Families and couples tend to enjoy the visit to Vodice's closest city to watch many Croatian artists perform.
With so much to do while enjoying the sun and the hot summer nights by the Adriatic beaches, Vodice truly deserves its title as one of Croatia's hottest summer destinations.
Credit photos: Juraj Kopac