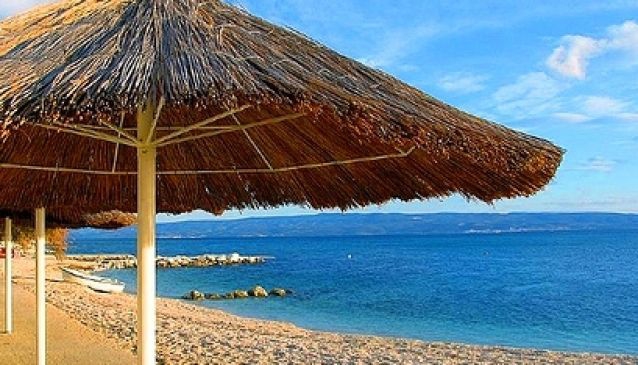 Podstrana - Sun, Sea and Stone
Family Fun
Beaches, beaches and more beaches...
Podstrana is a quaint town located on the outskirts of Split, in central Dalmatia, at the foot of the beautiful rolling Perun slopes. Don't be fooled by its size because for such a small destination it has a lot to offer. Beaches, beaches and more beaches is what Podstrana is known for. Kilometers of sandy, pebble stoned or rocky beaches can all be found along the coastline of this idyllic coastal town. Numerous beach bars, restaurants with sea side patios and refreshment stands dot the shores of this pleasant family destination. Ideal for summer holidaymakers, Podstrana has come a long way in the past decade. Today Podstrana is home to Le Meridien Lav, one of Dalmatia's most beautiful 5 star resorts, along with numerous other family run hotels who have set the standards quite high. Private pools, beautiful terraces and incredible accommodation can now be found with great ease. It has a variety of offerings, from historical sightseeing to recreational nature activities, along with daily excursions and an incredible array of traditional Dalmatian restaurants, Podstrana is a perfect destination for a sunny family vacation.
On an uncommon rainy day, or if you just want to take a break from basking in the Mediterranean sun, plan a mini-excursion to the Palace of Cindro. Originally from the 17th century, the restored palace now offers visitors a look into the life of royalty from over 300 years ago. Beautiful gardens that dot the property add to the splendor of this ancient palace. Nearby you will find another ancient stone church, Saint Martin, which was first noted in 839, when a peace treaty between Croatian King Mislav and Venetian King Tradonik was signed. This tiny, aged stone building is situated next to a small cemetery where, legend has it, lay the remains of the first English king, King Arthur. Also of great significance is an engraved sepulchral slab from the king himself.
Podstrana, although rich in culture and history, presents numerous recreational and entertainment activities. The patron saint of Podstrana is Saint Anthony of Padua whose day is celebrated on the 13th of June, also marking the official commencement of Podstrana's summer festival. Evenings of klapa (traditional Dalmatian acapella singing) concerts, fishermen nights, olive and wine tasting events fill the hot summer evenings and provide for some excellent family entertainment.
As mentioned, Podstrana prides itself on its remarkable beaches which are clean and well kept and is the main reason so many tourists visit this small yet fascinating part of the Adriatic coast every summer. Scuba diving, jet skiing, paddle boats, banana boats, tubing and snorkeling offer hours of fun for water sports lovers of all ages. Day excursions to the neighboring islands of Brac, Hvar and Korcula will bring you closer to the relaxed way of life of the islanders; rafting on the river of Cetina only five kilometers away also provides adrenaline-rushing adventure amongst stunning landscapes of waterfalls and canyons. Biking and hiking trails to the top of Saint Jure are also a great way to spend a day exploring Podstrana.
Traditional and not so traditional gastronomical specialties can be enjoyed in a number of the leading restaurants in this area with Restaurant Arkada as our recommendation. Homegrown peaches, locally made olive oil and domestic wines typical of every region in Dalmatia add to the list of authentic specialties one must try. Whether your holiday will include a cultural exploration of Podstrana, fun filled days on the beach or a gourmet holiday tasting Dalmatian delicacies we are sure you will find yourselves quickly planning your next trip to this incredible destination.